We are very happy with the 2017 harvest first of all because it is our first organic certificated vintage!
In general 2017 will be remembered for being one of the hottest and especially driest growing seasons ever.
Winter and spring were already extremely dry and from the middle of May we had and incredible hot and again dry period that stopped only on September 8th when we received finally some rain in Maremma and Chianti Classico. This rain gave some new energy to the vines and gave us the opportunity to prolong the growing season for one week and keep the grapes a little bit longer on the vines.
These extreme conditions reduced up to 40% the grape quantities in all our vineyards. On the other side all grapes and vineyards were extremely healthy so that treatments with sulfur and cupper were reduced to a minimum and the quality of the grapes was very good.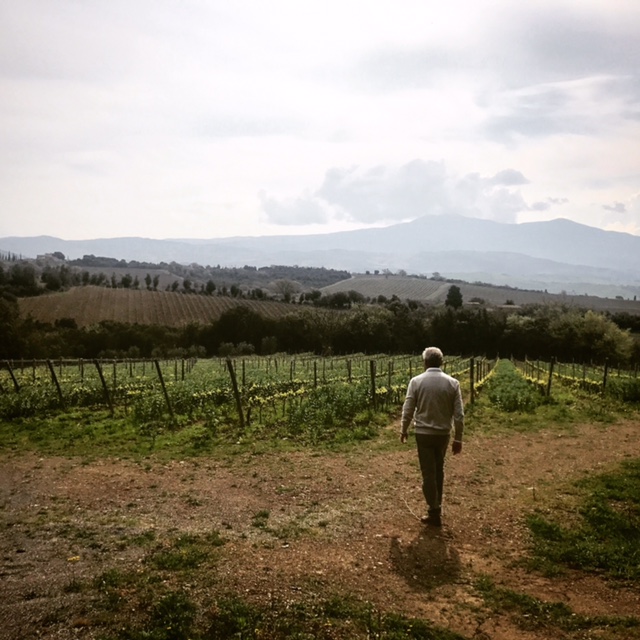 Our white grapes (Vermentino & Roussanne), that grow in our Maremma proprerty Mongibello delle Mandorlie, were picked 10 days in advance compared to the average of the last 10 years. We started indeed picking already a few days after Ferragosto on August 17th. One week later we brought our Merlot from Maremma into the cellar.
Fortunately we waited a few days afterwards and the rain arrived so that we could wait a few more days before continuing the harvest. After the 10th of September we picked Merlot in Chianti, Syrah and Sangiovese in Maremma and finally the Sangiovese at Nittardi and Cabernet Sauvignon and Petit Verdot in Maremma. Especially the Sangiovese from Nittardi and the Cab and Petit Verdot from Maremma had a beautiful phenolic ripeness and produced some very promising juice!!
In a hot vintage like this it was essential do to do only the minimum in the cellar to avoid too much extraction and creating in the end too big and jammy wines. This means that we did only very short pump overs and punch downs and in general the macerations were shorter than normally to maintain some finesse and elegance.
As always all grapes were picked by hand and every vineyard was fermented in a separate vat. All alcoholic and malolactic fermentations started spontaneously without creating major problems.
Now all wines are in oak but already after a few month it is clear that 2017 is a great vintage that has power and a little higher alcohol than normal. However our great vineyards made the magic happen again and guarantied that the wines are still elegant considering the hot growing season.
Also this year we were able to produce a little bit of Vin Santo made out of dried white grapes (Malvasia and Trebbiano) that come from our 50 year old Villa Rosa vineyard where also Belcanto Chianti Classico is born. The Vin Santo is more of a game as we don't sell it but drink it only at Nittardi among friends.